We were very pleased with the response time and the work was completed very quickly, efficiently and professionally! I will not hesitate to call for all roofing needs. Excellent company!
We'd called other roofing companies previously but they took ages to respond. Finally, we called GVRD and Chris was quick to respond on the phone. He sent someone, Abid, to come inspect our flat roof leak within a few days. Abid was very professional and arranged to fix the leak within a week. Overall, very satisfied with the response time and service.
The people from GVRD Roofing Chris , Dan and Gerald are top notch , professional, hard working class act . I highly recommend these talented group of people. They repaired the cedar roof at my place of work in a timely manner . Keep up the great work guys !!!! Cheers
I called GVRD roofing after our recent rain and wind storm as I discovered the shingles around my gutters had fallen off causing a big hole in my roof. They made time for me during their busy schedule and helped me avoid any restoration costs from water damage as they were quick to respond and efficiently fixed the hole. I would recommend GVRD roofing for anyone looking for experienced roofing experts.
Quick response and care from back office to site techs. Would work with again!
Amazing service Highly recommend these guys
Awesome work done. Very Reliable
Thank you so much Chris for helping us address a persistent leak! GVRD Roofing was quick to respond to my call and got someone out to take a look and assess the problem the same day. They sent us pictures showing where they felt the issue was and communicated the work that they anticipated needed to be done. They did a quick fix right away to stop the leak with a plan to come back to do a more fullsome repair later. When the fix wasn't sufficient, I called Chris who sent his team back to take another look and complete the work. Initially we were not satisfied with the work that was done, because the issue was not resolved. I got in touch with Chris who took our concernse seriously and sent his team out one last time with really experienced roofers, and the assurance that they'd do the absolute best they could. It paid off, and now - no more leak! Chris is dedicated to providing quality work, and is flexible and easy to work with. I highly recommend GVRD Roofing for fast and reliable roofing needs. Thanks!
Jenna Scott Camargos

2022-05-29

Our roof was particularly difficult to do: very steep, diverse drops, 4 skylights, and five neighbours. Houses so close ladders in 3 of their yards. These guys were able to maneuver all the tangibles and deliver the job with an awesome finish.
Amazing. I was stuck with a leaky roof and a storm a few hours away. I called GVRD and within two hours they got to my house and fixed the issue. Very grateful and totally impressed!
Standing Seam Metal Roofing installers in Vancouver BC
How long a typical roof will last you may ask? The answer is a asphalt shingle roof will last any where from 20 to 25 years. Now think about how long a metal roofing system will last 50 plus years. There is no comparison when it comes to its quality and longevity. With hidden fasteners heavy gauge metal and full peel and stick underlayment used, you can be assured when we install metal roofing system it will last a lifetime. Using fixtures and fasteners that will match the metal roofs life will also ensure you won't be calling us again for a very long time.
Give us a call 24/7 365 days a year@604-445-4873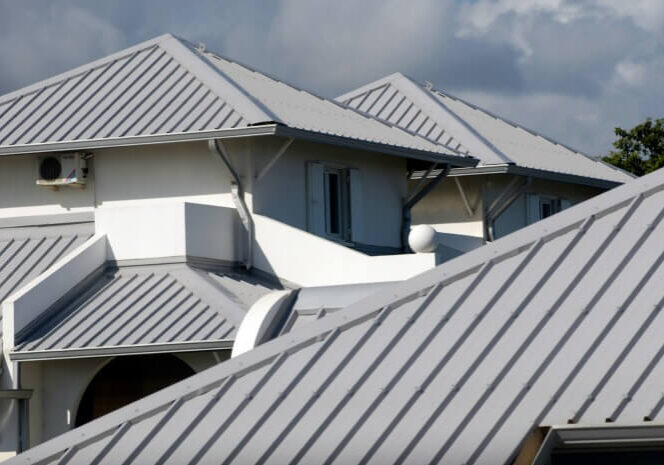 Pro-lock 24g & 26g
Pro-Lock roofing systems are a snap lock roofing assembly. This means the panels we install are locked down from the up stand. The screws that hold panels down are hidden and our roll out machine cuts the top and bottom of each panel so they will lock down. Our panels are made to lock down over the rake edge metal installed along the bottom edge.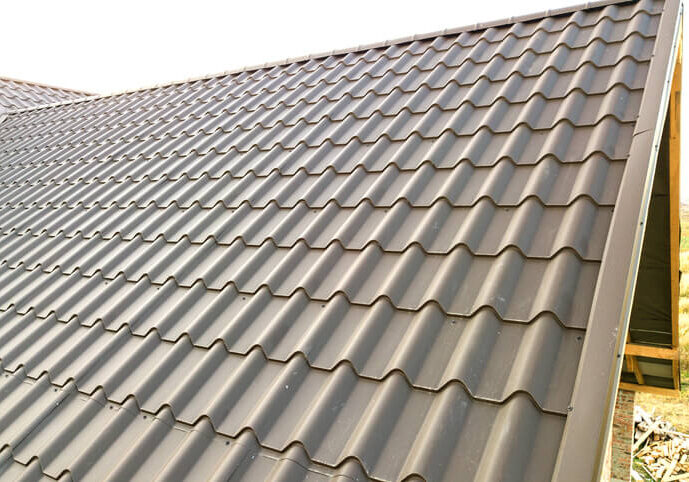 Corrugated & Metal shingles
Metal shingles systems have a locking system that ties each section into place. Corrugated panels are fastened with a rubber washer screw. These are great metal roofs if you are going for a specific look or have a commercial building application.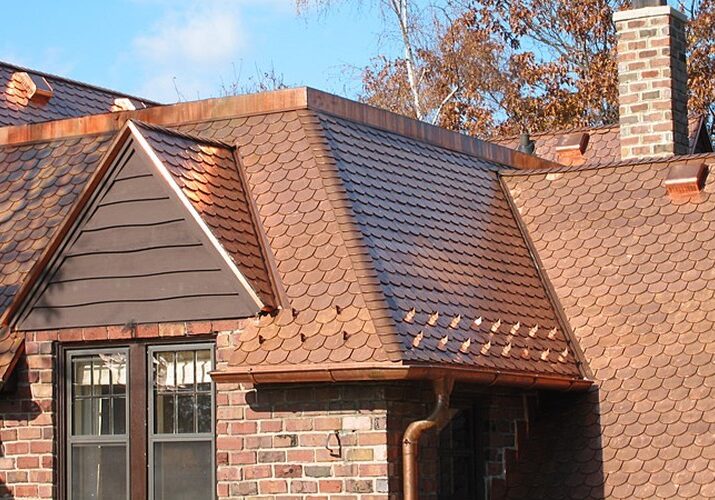 Copper & high end metal roofs
If you are looking for a roofing system that will WOW all your friends and have budget for it a copper roof can add millions to a homes value. This roof in the picture above is very expensive and will take months and months to install. There is nothing fast when installing any metal roof. The more valleys and hips, the more time and money it will take.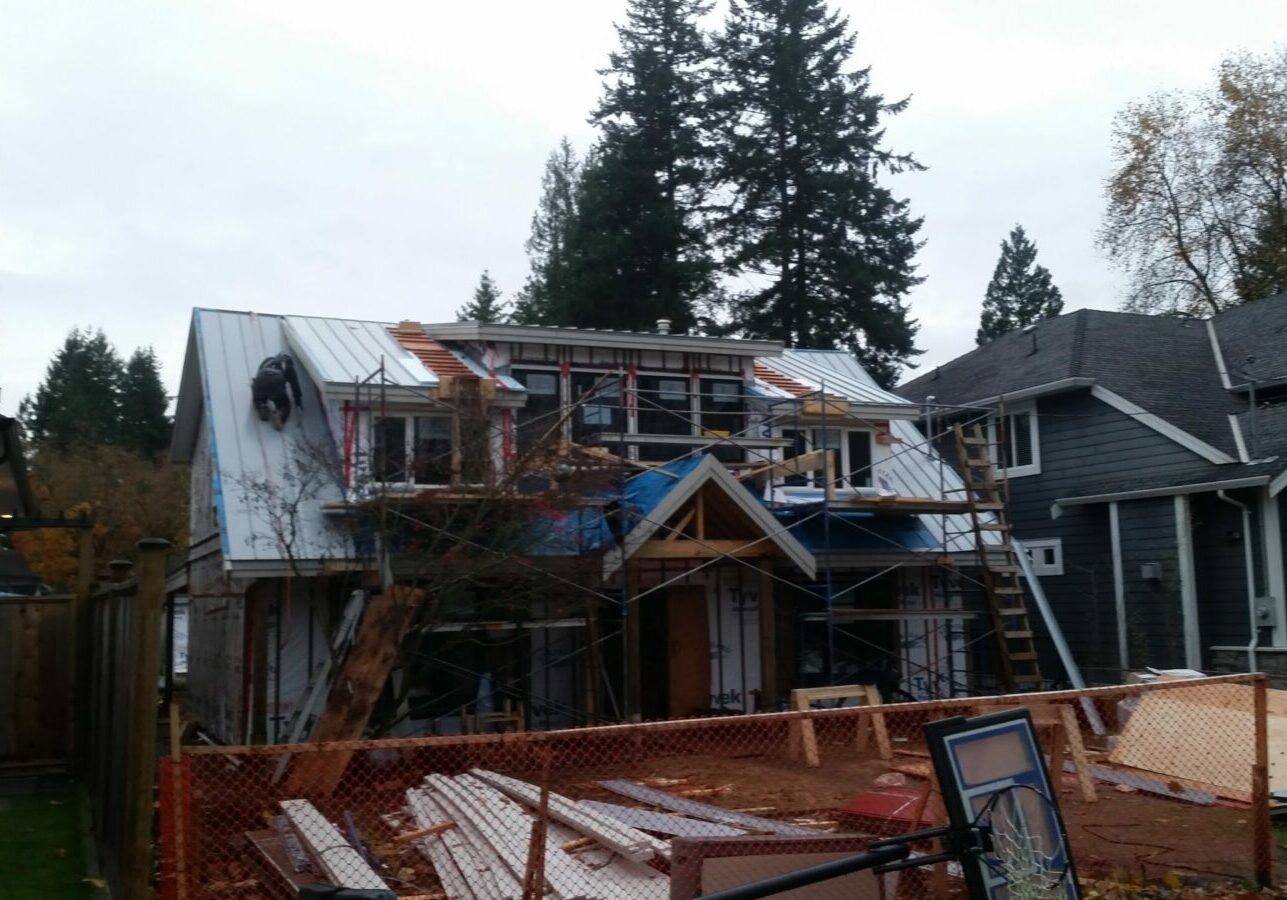 Metal Roofing systems for new homes
GVRD Roofing Inc is happy to assist in your new roofing project. Install an amazing roofing system that comes with a lifetime warranty. Imagine a metal roofing contractor in Vancouver that can remove your old roof and install a brand new metal roof. From standing seam roofs, corrugated metal roofs, to commercial grade standing seam roofs. We can do it all for you. Our team is available in North Vancouver, West Vancouver and across Greater Vancouverfor new metal roofs and on new construction projects. Give us a call today at 1-604-445-4873 or email us at gvrdroofing@gmail.com
Metal Roof installed 2019
Put a roof on that will never have to be replaced. The life span of a traditional asphalt roof is between 20 and 30 years. However a metal roofs will last upwards of a 100 years. Most importantly it can be washed and look brand new even after decades of weather.
To clarify a myth that metal is loud I can tell you I have never had a client come back to us and complain. Another myth is they too expensive? If your homes roof is simple a this type of roof can be very affordable.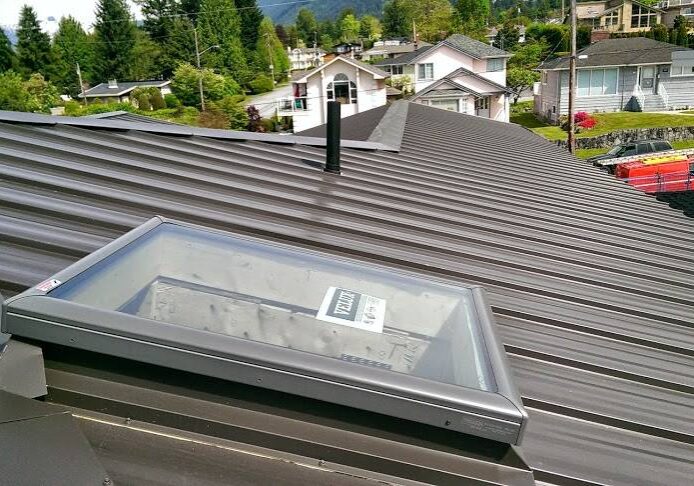 Metal Roofing Companies in Vancouver
Metal roofing is a durable and long-lasting roofing option that is becoming increasingly popular among homeowners across Vancouver BC. Made from a variety of materials, including aluminum, steel, and copper, metal roofing is known for its resistance to fire, wind, and impact, making it a great choice for homes in areas that experience severe weather. Additionally, metal roofing is energy-efficient and can help reduce energy costs over time.
Metal roofing comes in a variety of styles and colors, and can be designed to mimic the look of other roofing materials, such as shingles or tiles. This versatility makes metal roofing a popular choice for Vancouver homeowners looking for a unique and attractive roofing solution.
The installation process for metal roofing is similar to that of other roofing materials, and requires a team of experienced professionals to ensure a secure and leak-free installation. Metal roofing panels are typically installed in sections, with each panel fastened to the roof deck using screws or clips. The panels are then sealed at the seams to create a waterproof barrier.
GVRD Roofing believes one of the key benefits of metal roofing is its long lifespan. Metal roofing is known to last up to 50 years or more, with some metal roofs lasting up to 100 years or more. This durability makes metal roofing a great investment for homeowners, as it can help save money on roofing repairs and replacements over time.
Another benefit of metal roofing is its energy efficiency. Metal roofing reflects heat from the sun, reducing the amount of heat absorbed into the home. This can help reduce energy costs, as the home stays cooler in the summer and warmer in the winter, reducing the need for heating and cooling systems.
In conclusion, metal roofing is a popular and practical roofing option for homeowners looking for a durable, energy-efficient, and attractive roofing solution. With a wide variety of styles and colors to choose from, metal roofing can help add value and character to your home, while providing protection from the elements. If you are looking for a company to install a new metal roof give GVRD Roofing Inc a call for a free estimate today